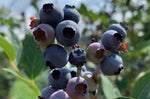 The United Nations Sustainable Development Goals (SDGs) are set out in 17 points. Goal 12 is dedicated to Responsible Consumption and Production.
Using environmentally friendly production methods and reducing waste are goals of Goal 12. From 2030, national recycling rates should increase, as reflected in tonnes of recycled material. In addition, companies should adopt sustainable practices and publish sustainability reports.
Treelium - in addition to taking care of sustainability in the production process - also chooses recyclable materials for the packaging and shipping of the devices.
As part of a continuous improvement process, we aim for complete regeneration of the value chain.