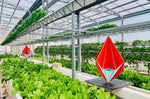 "Treelium Farm" is a project in continuous evolution and expansion, involving only the best Italian and international companies.
Yesterday, Andrea Caravelli, CEO of Treelium, Paolo Riccardino, Technical Director of the "Water" Department, and Egidio Alagia, Communication Manager, met the Lavazza Foundation to illustrate our "Treelium Farm" project.
When you share the objectives of sustainability and innovation, you find yourself travelling down the same road to pursue them, and it is essential to join forces to generate synergies and mutual improvements.
We will be happy to tell you more soon.